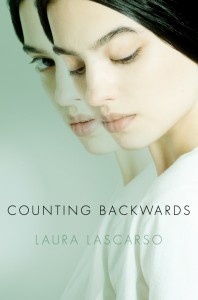 Laura Lascarso's debut novel, COUNTING BACKWARDS (Atheneum, ISBN: 1442406909), hit bookshelves last week.The novel tells the story of 16-year-old Taylor Truwill. Strong-willed and troubled, she wants only one thing: an escape from her life. But when she's caught escaping in the car she's stolen from her alcoholic mother's latest date, she ends up losing all freedom instead. Locked inside the fences of Sunny Meadows, a psychiatric correctional facility, Taylor immediately begins to plan her escape. But a quiet, handsome boy, her only girlfriend – a former child star and arsonist, and her persevering therapist all stand in her way. Will Taylor ever get past the fences? And what road is it that she needs to take to truly find freedom?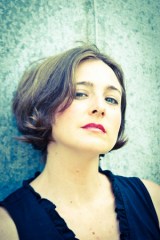 I got the chance to co-interview Laura with my 12-year-old daughter Hanna back before the book was released. Read on to learn about the author of this meaningful and engaging story and why she wrote this book.
Heather: What made you want to write this story (Counting Backwards)?
Laura: Because I think there are a lot of teens who feel trapped by their life circumstances. Counting Backwards is a story where the protagonist (Taylor) feels as if she has very little control over her surroundings, her peers, even her own body, and I wanted to really press her with the setting of Sunny Meadows, to explore the idea of rebelling against the institution while also battling her own mind and impulses.
Hanna: Did you ever get steal a car or get yourself landed in a juvenile detention center?
Laura: No, but alcoholism and depression are prevalent in my family and I've seen the ways in which substance abuse can tear families apart.
Heather: How do you come up with your characters? Do you base them on people you know?
Laura: I tend to base my characters on people I know or have known. Margo is a composite of two of my BFFs from high school, so you can imagine how much fun we have when we get together. Taylor is more like me, when I'm feeling threatened or angry. I too have to fight the urge to flee when things get hard or personal. AJ is her counterpoint, the one with staying power. I'm lucky to have someone like him in my life.
Hanna: How old were you when you decided you wanted to become a writer? How long did it take for you to become published?
Laura: I was in third grade when I wrote my first book entitled, Marty, the Macaw Who Couldn't Sing. It was a bittersweet tale with a hopeful ending, similar to Counting Backwards. That was when I had the first stirrings of a writer's high. Several book-length manuscripts and many, many rejections later, I became published in traditional terms this year, 2012, at the age of 32.
But the idea of what it means to be published is different for everyone. There are so many ways to get your voice out there without going through the traditional media channels. Blogs, for instance, are a great way to develop a following of friends and fans and test out your writers' voice. You can write anything and no one can stop you! How liberating is that.
Heather: Speaking of getting published, you must be pretty excited about your novel Counting Backwards coming out in August with Athenuem (Simon and Schuster). Do you have any book signings planned where your readers can you meet you in person?
Laura: I'm still scheduling dates for book signings, but check out my blog, www.lauralascarso.com for the latest about news and events. You'll also see my book trailer—acted, directed and edited by teens. It's a tad bit awesome.
Hanna: I think that's totally Awesome!! Especially because it's directed by teens.
Heather: Thanks for taking the time to "talk" with us today. Good luck with your novel and we can't wait to read the next one!
Check out the COUNTING BACKWARDS book trailer here!